| | |
| --- | --- |
| Posted on July 17, 2019 at 5:25 PM | |
DEBUNKING THE MYTH - "You can't cook with olive oil…"
The smoke point of an oil is the temperature at which the oil starts to smoke. The smoke point of any edible oil depends on the Free Fatty Acid (FFA) level. The lower the acidity the higher the smoke point.
Here are the smoke point ranges for olive oil and other common cooking oils.
Olive Oil or Extra Light Olive Oil -- 390 - 468°F
Sunflower Oil -- 440 - 450°F
Soybean Oil -- 440 - 450°F
Canola Oil -- 435 - 445°F
Peanut Oil -- 420 - 430°F
Corn Oil -- 400 - 415°F
Extra-Virgin Olive Oil -- 350 - 410°F
Shortening -- 360°F
Virgin Coconut Oil -- 350°F
Keep in mind that average stovetop cooking is 350⁰F. As you can see, olive oil's smoke point is similar or higher than the smoke point of most cooking oils so the bottom line is…YOU CAN COOK WITH EVOO!
The following diagram shows the influence of FFA on the smoke point of an EVOO.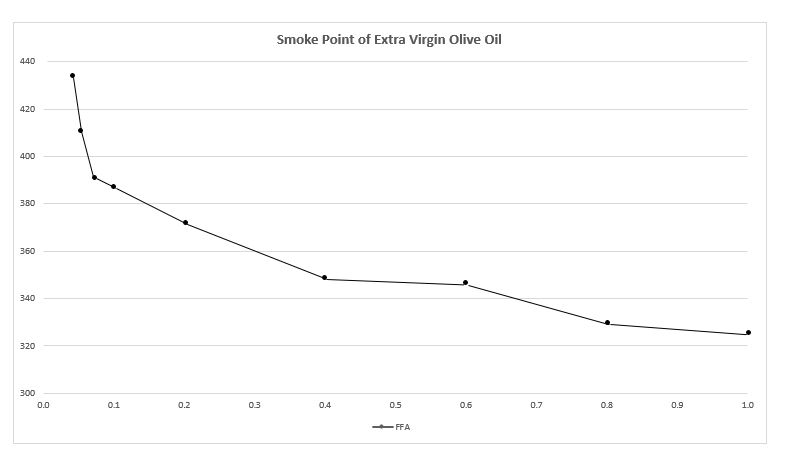 Categories: Kaye's Kitchen